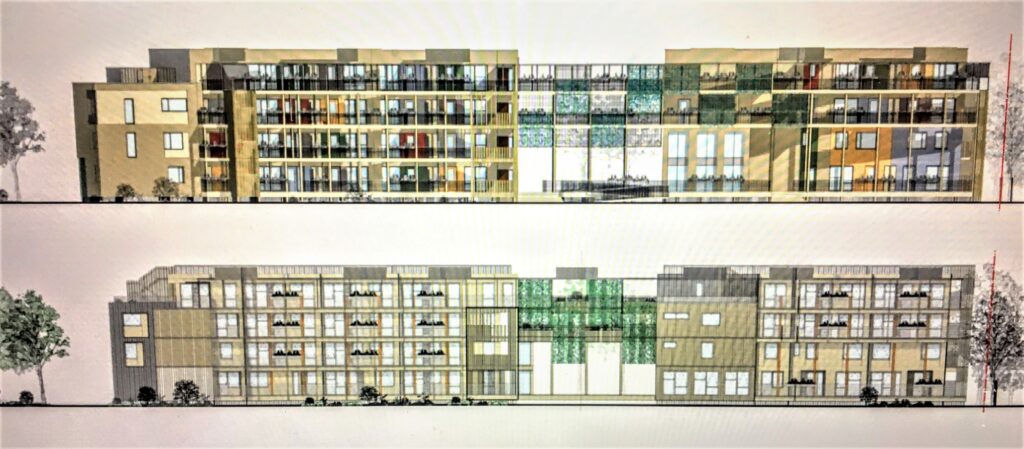 Concerns have been raised over the changes RUSS are making to the self build project in Church Grove.
The community land trust says it has to make the changes in response to budget concerns, changing attitudes to fire risk and building regulation guidance on sustainability.
The main changes include a concrete rather than a timber frame; non-timber cladding; an increase in the number of proposed homes from 33 to 36; and a one metre increase in the height of the building.
But at an online public discussion the Ladywell Society and near neighbours criticised the height increase and the change of materials.
There was concern changes to the project might lead it to overlook the houses of neighbouring residents
RUSS says a review of the project has also resulted in a publicly accessible children's play area by the riverside; an increase in the distance between the project and its near neighbours in Church Grove. It is is also looking at a sustainable electric heating system which would reduce carbon dioxide emissions.
The project and associated community Hub gained planning consent during 2018. The hub provides a 48m2 space which can accommodate up to 30 people and includes a kitchenette, accessible toilet and covered bike storage.
The single-storey building will provide meeting space for the RUSS 'School', where people will share their experience of self building with other interested groups, along with a resource and space for RUSS staff, volunteers and wider community groups.
Any questions about the project can be sent to info@theruss.org. Ttheruss.org/projects/church-grovehere is nalso more information about the Church Grove project and the RUSS vision at www.theruss.org/projects/church-grove/