Mike Guilfoyle, who recently published a third brief guide on 30 of the illustrious deceased buried in Brockley and Ladywell cemeteries, has been tempted to venture further afield – into the verdant 65 acres of Hither Green cemetery. He is now writing another guide book,provisionally entitled 'One Hundred and Thirty One Illustrious deceased' buried in Hither Green cemetery. He intends including historical notables who were cremated in the adjoining crematorium which opened in 1956.
I realised just how many fascinating historical lives could be found in this cemetery from my serendipitous excursions poring over faded headstones and also accessing on-line enquiries via that most invaluable electronic resource of cemetery records, Deceased on Line (who's burial records span from 1858 -1999 and also encompass Hither Green cemetery opened in 1873). Accessing the actual burial records themselves involves paying a small fee to view. Lewisham's other cemetery at nearby Grove Park was opened in 1935.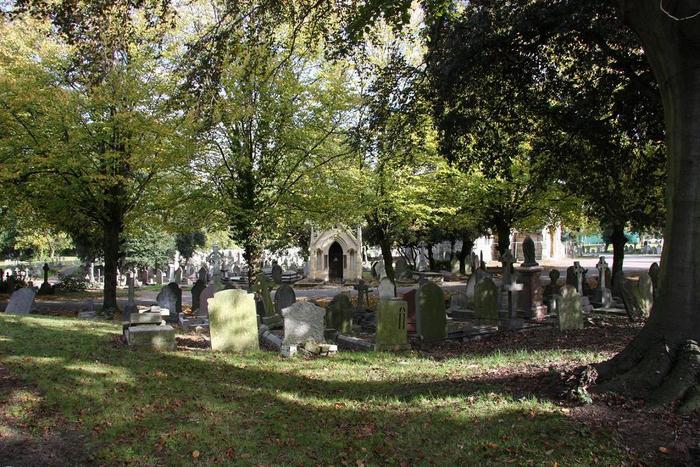 The visitor to Hither Green cemetery, formerly known as Lee cemetery, is presented with a curious mixture of the old and the new. At the entrance , the uneven jumble of headstones, containing many fine monuments to some of the illustrious deceased buried here, that surround the two impressively ornamented Gothic rag stone chapels , the Anglican one in use , the other a Dissenters chapel now eerily derelict. It was designed by William Webster, interred St Margaret's churchyard, Lee).
This outlook seems more redolent of a country churchyard with meandering and atmospheric pathways that soon give way to a drearily unimaginative landscape of stone memorials that stretch into the near distance as the noted London cemetery historians Brian Parsons and Hugh Mellor* opine.
The only significant memorial in this more modern part of the cemetery the one for the 38 children and six teachers killed in the 1943 German bombing of Sandhurst Road School, Catford. They were interred in a trench burial (below) in the presence of 7,000 mourners,
This tragic event is also remembered on a plaque inside the Anglican Chapel from the 'school children of Mexico'.
There is also the mounted civilian war memorial remembering civilian dead from the Second World War. Also there is an unobtrusive Commonwealth War Graves Commission screen wall memorial which commemorates service personnel from the Second World War buried in the cemetery. The cemetery contains the graves of 43 Commonwealth service Personnel from the First World War and 198 from World War Two.
Fittingly enough the designer of the cemetery, 'Architect and Surveyor' Francis Freeman Thorne, was buried here in 1885 as is his son Francis Flude who died in 1934. Edward Milner (d. 1884) the landscape architect was also employed in the design of the cemetery. The Gothic style lodge which occupied a site next to the iron entrance gate was demolished in the 1960's.
So perhaps some hints as to who might feature in such a guide book may offer an enticing portal for the prospective reader. Certainly Victorian melodrama is well represented here and the first name to share is that of Jane Cannon Cox (d.1917) who was a 'suspect 'in one of the greatest unsolved poisoning cases of Victorian England' aka 'The Balham Mystery'.
Cox was the housekeeper at the 'Priory' in Balham who was implicated in the poisoning of Charles Bravo in 1876, and although never charged with his murder, her reputation was left in ruins and the mystery of his death remains the staple of the Victorian Whodunit industry!
A more recent unsolved murder case which led to fundamental changes in how vulnerable suspects were treated in police custody was that of Maxwell Confait (d.1972) who was found strangled in Catford.
Three local teenagers were convicted (these convictions were later quashed as the case became a famous miscarriage of justice). He is interred close to the site of the crematorium.
A fascinating link to the capture of the legendary Australian outlaw Ned Kelly is to be found with the grave of Police Commissioner David Thompson Seymour (d 1916). The family grave was recently restored in 2014 by the Queensland Police Service.
Shifting niftily to some sporting connections, Seraphino' Kelly' Antao (d. 2011), the Kenyan sprint champion known as 'Gazelle'. He was the flag-bearer of the post-independence Kenyan Team in the 1964 Tokyo Olympics (the flag was given to him by Jomo Kenyatta –First President of Kenya).
This Kenyan running legend was arguably the greatest Goa born athlete of all time. His ashes are now to be found aside Hither Green crematorium.
The world-record holding amateur boxer Errol Christie (d 2017) is buried here, the only athlete in boxing history to win 10 amateur titles . He rose to prominence in the professional ring during the 1980's and is credited with initiating the now-common pre-fight sparring scenes.
For sheer gritty endeavour, having established 32 British cycling records and tried unsuccessfully on 11 occasions to swim the English Channel, mention should be made of Montague Alfred Holbein (d. 1944).
The famous war artist and correspondent Melton Prior (left) (d. 1910 ) rather unflatteringly dubbed the 'screeching billiard ball' is buried close to the entrance to the cemetery with his first wife, Alabaster who came to a tragic end in 1907 when she was killed by a tram in Lewisham.
There is also Captain William Colbeck (d. 1930) who commanded a relief ship in 1904 that rescued the beleaguered Captain Scott then stuck in the Antarctic ice having earlier assisted the famous polar explorer Ernest Shackleton to safety. I have also located at least three links to the 1912 Titanic sinking in the cemetery as well as a survivor of the loss of the RMS Lusitania, Phyllis Wicking-Smith d.1920)
A brace of Russian links is next on offer, virtuoso violinist Stanislaw Frydberg ( d. 1968 ) who when facing a firing squad for 'plotting' against Comrade Lenin, was then released from death row after his melodious violin playing won over his captors!
The remarkable operatic singer, Lena Prokofiev (d 1989) wife of Sergei Prokofiev, one of the 20th century's greatest composers, and friend of Coco Chanel and Marlene Dietrich, who spent eight terrible years in the Siberian gulag was cremated at Hither Green.
Another survivor of imprisonment, this time at the hands of the Japanese, was Eithne Von Hagt (d 1964). She was a hair stylist from Singapore, who died following her visit to London for medical treatment.
Eithne was a civilian prisoner at the notorious Changi prison, (Singapore) and helped to create the world famous Changi quilt; this cloth was embroidered by women captured in 1942.
Peckham born ,Mike Jeffery (d. 1973 ) photographed left in New York City in 1969 with Jimi Hendrix, was interred here after being killed in a plane crash aged 39 years over France.
He was the quixotic manager of the rock group The Animals and rock legend Jimi Hendrix. His Austin Power's persona makes for interesting reading and as a strange aftermath to his burial, at his father's request, his body was exhumed from the cemetery in 1981 by Home Office license. His remains were later cremated at Hither Green Crematorium without ceremony!
In 1911 Lady Constance Blanche Alethea Mary Foljambe became an international press sensation when her society wedding in Belgravia was cancelled as she 'jilted' her husband at the altar. She did however later marry the Reverend A. Hawkins at a quieter nuptial ceremony! She was cremated here in 1977.

The crematorium dubbed rather harshly perhaps by Parsons and Mellor as a 'model of artless deceit' was designed by Lewisham borough architect, M. H. Forward.
It has also been graced by the comedian and 'amateur sensationalist' Malcolm Hardee (d 2005) and the spiritualist and professional medium, Doris Stokes (d 1987) and a Josephine Maxwell Clapham ( d 1973) who became ' stepmother' to a German spy in World War Two!
The much decorated and charismatic Polish Submariner, Commander Borys Karnicki (d.1985) who 'declared war on Benito Mussolini' before sinking Italian shipping in the Mediterranean during World War Two was cremated there,.
His wife, Jadwiga (d.2014) was a pioneering Gynaecologist at Lewisham Hospital (she is buried in Brockley cemetery)
Three concluding (for this article) funereal references, with fascinating literary connections, which may well merit inclusion, are Louisa Emilie Veuve (d. 1918) on whose part hidden headstone are inscribed the words 'died in the service of Britain'.
One of those who subscribed to have the headstone erected and whose name is also inscribed underneath was the yachting author, Frances Knowles Foster.
Another dedication is to Herbert London Pope, who is buried here (d 1925). He appears in the 1923 edition of the swashbuckling historical romance, Sir John Derring , written by the best selling fiction writer Jeffery Farnol. One of his books was made into a 1936 film starring, Douglas Fairbanks Jr. Jeffery Farnol lived for a time in Lee and the two were boyhood friends.
The double named Edward Gossett Gossett Tanner (d. 1922) features in one of the earliest known photographs from 1892 of a cherubic looking Winston Churchill whilst he was a pupil at Harrow School.
I hope this brief suggestive resume enlisting some of the many historic notables to be located in Hither Green cemetery (or linked to the crematorium) will help to inform my guide book, whose date of publication is optimistically planned for later this year.
My inaugural guided walk for May in Hither Green cemetery planned as part of the yearly festival has been postponed due to the pandemic as have so many other local activities.
But if any reader has historical information on as yet undiscovered luminaries or indeed lesser known denizens buried or cremated here with a story to tell, as an inveterate taphophiIe I would be more than delighted to hear from them.
Mike Guilfoyle is vice-chair of the Friends of Brockley and Ladywell Cemeteries
 *An expanded sixth edition of their classic illustrated London cemetery guide will hopefully shortly be in print .