Mike Guilfoyle, vice-chair of the Friends of Brockley and Ladywell Cemeteries and a local historian, reveals the stories of some of the people – the rich and famous as well as the poor and long forgotten – who had links with our neighbourhood
Samuel Butler (1835-1902), novelist, critic and writer: The famous author of the satirical novel, Erewhon (1872) and what many regard as his controversial masterpiece, the semi-autobiographical, The Way of All Flesh (published posthumously in 1903), was also an accomplished painter.
One of his oil paintings, "Mr. Heatherley's Holiday" (1874) is in the Tate Gallery, London.
He was greatly influenced in his later intellectual outlook from having spent time living in New Zealand and one of his well known admirers was the satirist, Aldous Huxley who openly admitted that his dystopian novel, Brave New World, was influenced by reading Erewhon.
In 1881 having purchased properties in Lewisham he photographed his companion and valet, Alfred Cathie (d.1947) on the platform at Ladywell Station ( 1892). The photograph is part of the special archival collection of Samuel Butler held at St Johns' College, Cambridge University (from where he graduated in 1859) and is available for personal usage only on request from the university.


Sir Joseph Lister ( 1827-1912), pioneering surgeon: Born in East London, Joseph Lister later became known as the 'Father of Modern Surgery'.
While working at the Glasgow Royal Infirmary he successfully introduced carbolic acid (phenol) to sterilise surgical instruments and to clean wounds. In 1902, the newly crowned King Edward VII needed an appendectomy.
He survived the operation, later telling Dr .Lister: "I know that if it had not been for you and your work, I wouldn't be sitting here today." The antiseptic mouthwash, Listerine, developed in 1879, is named after him.
In 1889, he publicly acknowledged the importance of a new cyanine gauze, developed by a John Milne, Ladywell, London, when he addressed the Medical Society of London. The site of the Surgical Dressing Factory was believed to have been close to Ladywell Station.
John Peake Knight (1828-886), inventor of the traffic light: Knight, a railway manager on the London Brighton & South Coast Railway, was credited with inventing the traffic light in 1868. T
he world's first traffic light was installed on December 9 1868 in London near Westminster Bridge, at the intersection of Great George Street and Bridge Street, London.
But it fell out of favour after a gas leak resulted in one of the lights exploding! It was not until 1929 that the first electric traffic lights appeared on the streets of Britain.
He lived at 33 Wickham Road. Following his death in 1886 the Prince of Wales had a special wreath placed on his coffin during the funeral. He is buried in Brompton cemetery.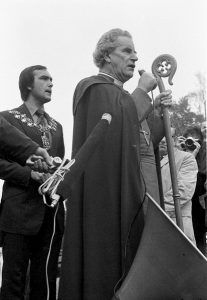 Mervin Stockwood (1913-1995) Bishop of Southwark: This colourful and controversial welsh born Anglican cleric occupied the post of Bishop of Southwark (1959-1980). He pioneered the blessing of gay couples, admitting children to Holy Communion as early as 1974, and the concelebrating by newly ordained priests at their ordination.
He was also a strong proponent for the abolition of the death penalty. He allowed a woman, in the early 1950s, to read the Epistle (it was almost unknown for a lay person, let alone a female to do such a thing back then.)
In August 1977, when the National Front attempted to march from New Cross to Lewisham, anti-racist and anti-fascist demonstrations organised to oppose the march. Violent clashes ensued in what later became known as the 'Battle of Lewisham', which saw the first use of police riot shields on the British mainland.
Before marching, thousands of members of the All Lewisham Campaign against Racism and Fascism (ALCARAF), representing more than 80 organisations gathered in the rain in Ladywell Fields, and listened to speeches by the Mayor of Lewisham, the Bishop of Southwark ( seen holding his pastoral staff in the photograph above) and the exiled Bishop of Namibia.
Annie Scott Dill Maunder (nee Russell) 1868-1947, astronomer:Born in Strabane, Ireland, Annie graduated in 1889 with the Mathematics Tripos from Girton College, Cambridge University with no formal recognition as Cambridge did not award full degrees to women until nearly 60 years later in 1947.
She joined the Greenwich Observatory in 1891 and in 1895 married her colleague and Head of the Solar Department, Edward Walter Maunder (1851-1928). According to rules and social conventions of the day, married women were not permitted to work and so Annie had to resign from her post shortly before her marriage.
Undeterred, Annie continued to participate in astronomy in a voluntary capacity. Annie and Walter went on eclipse expeditions to Norway, Algiers and Canada. She made a name for herself as a public lecturer and writer of popular astronomy books. Although their book The Heavens and Their Story (1908) featured both husband and wife as authors, Walter proudly commented in the introduction that the book 'is almost wholly the work of my wife'.
Between 1901 -1911 the couple lived at two addresses on Tyrwhitt road. The book is freely available to view on line under the rubric of the Open Library. Fascinating contemporary descriptions of Hilly Fields feature prominently in the work. Indeed the spire of nearby St John's church, (Lewisham Way) was used as a local reference point for the Astronomer Royal Sir George Biddell Airy's Altazimuth Telescope from 1888 onwards.