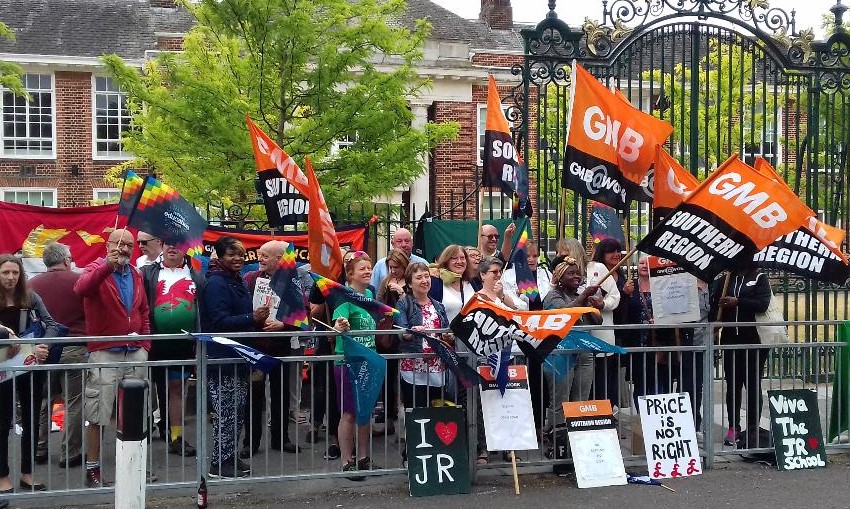 GMB union president Barbara Plant has lived in south east London all her life – first in Catford and finally in Ladywell after passing through Forest Hill.
"I like it in Ladywell," she says. "There's a real community here … people don't seem to move away. It definitely has that village feel"
Barbara was elected national president of the GMB, a general union which has 630,000 members, in the summer of 2018. The union covers commercial, manufacturing, and public services. She took over from Mary Turner who had held the role for 20 years but died in 2017.
Barbara has been a GMB member for more than 20 years and a union activist for most of that time.
But Barbara is perhaps best known to many people in Ladywell because she was a teaching assistant and eventually a governor at Gordonbrock primary school.
It was at Gordonbrock that her union activities really took off.
In the early 2000s the then head decided to change staff job descriptions and that involved the teaching assistants taking on additional responsibilites they were unhappy about.
Barbara became the workplace rep and led the fight against the changes. She has not looked back since. She quickly moved through the union ranks to become education convenor for Lewisham schools, going on to sit on the national School Support Staff Negotiating Body representing support staff at a national level.
Barbara was elected to GMB's central executive council in 2015 and then became president in 2018.
She now chairs the governing body of the union and a host of sub-committees, attends the TUC and Labour Party conferences on behalf of the union, and travels the country supporting GMB activists and promoting the union,bottling plant
"I'm busy but it allows me to visit members in their different workplaces. … I was recently at a whisky bottling plant and a biscuit factory … it's important for me to see the conditions of our members"
Just a few weeks ago she was standing on the picket line outside Lewisham hospital in support of staff who are fighting for the London Living Wage.
Earlier this year she was on a TUC women's delegation to Palestine where she witnessed first hand some of the dire conditions on the West Bank.
She also went on holiday recently to Stuttgart where she has had a penfriend since the age of 14.
"I was studying French at school and my teacher said she would get me a penfriend. She did – but the pen friend lived in Germany! "But we got on and have remained in touch all these years."
Barbara is also known locally because her daughter Hannah ran Honeybournes gift shop in the high street. Hannah is now following in her mother's foosteps and becoming a trade union organiser.
"We all had to pitch in at Honeybournes," says Barbara. "At Christmas my husband played Father Christmas and my task was to buy 90 personalised presents for the kids who went to see him in Hannah's shop."
Barbara says she will be remaining in south east London for some time yet. "Its easy for cinemas and theatres … and," she confides, " I like the radical heritage of this part of the world."
"There was not only Eleanor Marx in Sydenham … but also Jim Connell who wrote the Red Flag just down the road in Crofton Park -Honor Oak.
"And now Ladywell has honoured the Lewisham suffragette Rosa May Billinghurst who was disabled". She is the focus of the assembly funded mural on the Elmira Street railway bridge.