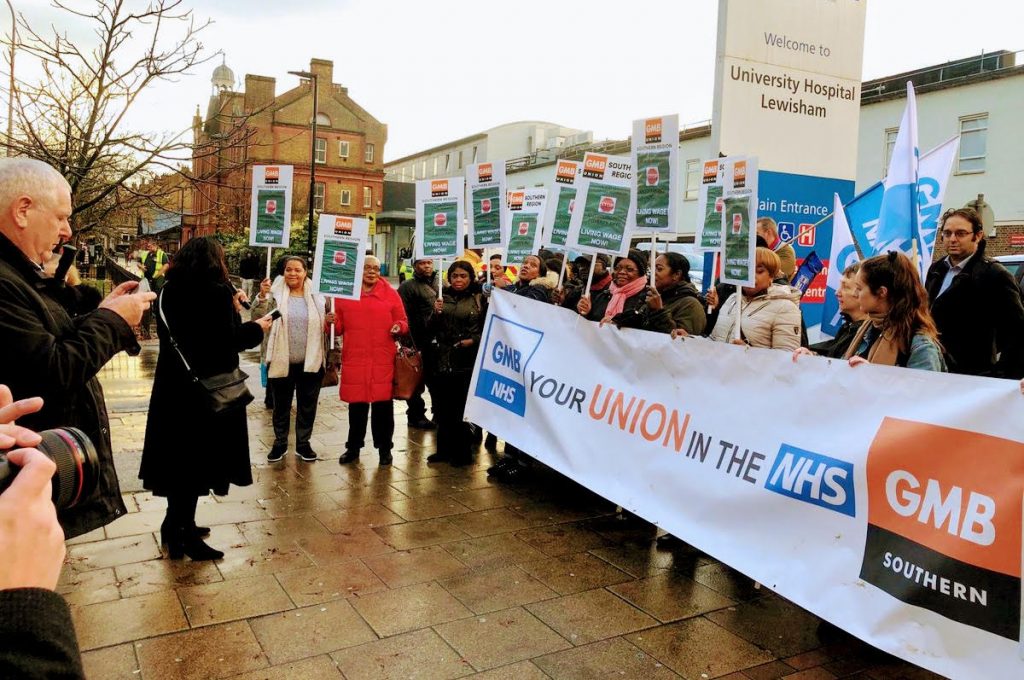 "What do we want? Pay justice. When do we want it? Now. "
This was the chant of GMB members who work at Lewisham Hospital as cooks, cleaners and other staff as they protested outside the hospital on Wednesday November 27 2019.
These low paid workers do not yet receive the London Living Wage, which has recently gone up to £10.75 an hour.
Lewisham and Greenwich NHS Trust had proposed a pay increase to £10.55 per hour, but these hospital staff are about to be outsourced.
The tender process was won by the private company ISS and from February 2020 they will be taking over the contracts for portering, cleaning, catering, pest control, post room, waste and linen services across Lewisham and Greenwich Trust's facilities.
ISS is now insisting that staff undertake a three-month training programme before they are paid the new rate of pay.
As there are no details of what the training involves, how it will be assessed or who will be doing the assessing and the consequences for any staff that don't pass it, the hospital workers are worried that this will be a way to justify keeping some of them below the new payment.
The GMB arey seeking written clarification on all these issues and also confirmation that this pay increase will not mean cuts to jobs or hours. Staff are also wondering why the new rate of pay will not apply until May (although they have been told that it will be backdated to February).
Helen O'Connor, GMB Organiser said: "While we see the proposed pay rise as a significant step in the right direction, we will not be celebrating until our members have received confirmation that this new rate will apply to all of them."
"It also still remains the case that the members are significantly worse off than if they were directly employed by the Trust. That said, if we can get assurances that this increase will be fairly and universally applied and not paid for by cuts to jobs or hours, it represents a real victory in an on-going campaign to ensure that our members are properly paid, rewarded and respected for their contribution to delivering for patients in this hospital."
The rally on Wednesday by GMB members was supported by speeches of solidarity from Janet Daby, Labour parliamentary candidate for Lewisham East, Paul Maloney, GMB Southern Regional Secretary, Rehana Azam, GMB National Secretary for Public Services, Sam Gurney, TUC Regional Secretary for London, East and South East England and Barbara Plant, GMB National President and a Ladywell resident.