Mike Guilfoyle, vice-chair of the Friends of Brockley and Ladywell Cemeteries and a local historian, reveals the stories of some of the people – the rich and famous as well as the poor and long forgotten – who had links with our neighbourhood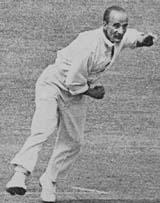 Alfred Percy Freeman (1888-1965) 'Tich Freeman' – Cricketer. Born in Ladywell, he was a leg spin bowler for Kent County Cricket Club and England. He is the only player to take 300 wickets in an English season, and is the second most prolific wicket taker in first class cricket history. Freeman is one of the shortest cricketers to have played for England. He was just 5 feet 2 inch in height. After retirement Freeman opened a chain of sports retail shops in partnership with his old Kent team mate Jack Hubble. He is said to have christened his retirement cottage "Dunbowlin'"
George Arthur Barnes (1883-1919) – Racing motorcyclist and pioneer aviator. George lived at 34 Algernon road, (formerly the Crown & Anchor Public House). He died in Essex in 1919. In 1903, George A. Barnes, was the holder of the British motor cycle record for one hour. From 1904 to 1905 , Barnes was in a partnership with George Wilton manufacturing and selling motorcycles as George A. Barnes and Co. In 1909 he was reported by the Diss Express to have been engaged in the construction of a monoplane on some marsh ground in the neighbourhood of Abbey Wood. "On Monday a trial was made. The machine left the ground, and a circuit of about one and three-quarter miles was made, lasting about two and half minutes. "On coming down to earth a sudden current of wind tilted the rear of the machine up, and the front came in contact with the bank of a ditch. Mr. Barnes was able to retain his seat, but the monoplane was travelling at about 40 miles an hour, the shock sprained his left wrist. "He was at once released from his position, and it was then found that the woodwork was completely wrecked. Mr. Barnes claims to the first to have flown in an all-English machine."
Cuthbert Collingwood (1826-1908) – naturalist and surgeon. Collingwood, born in Greenwich, lived at 134 Ladywell road. He served as surgeon and naturalist on H.M.S. Rifleman and Serpent on voyages of exploration in the China Seas (1867), and made research in marine zoology. One result of the expedition was his 'Rambles of a Naturalist on the Shores and Waters of the China Seas' (1868). He died in Paris and is buried in Nunhead cemetery.
Henry Williamson (1897-1977) – writer and soldier. Williamson was the author of the highly influential novel Tarka the Otter' (1927). He went to Colfe's Grammar School and lived prior to 1921 at 11 (now 21) Eastern Road, Ladywell. Several of his semi-autobiographical books concerning 'Philip Maddison' (Donkey Boy, How Dear is Life,) are set in Lewisham. He is commemorated by a Henry Williamson Society plaque at 21 Eastern Road. His mother Gertrude Williamson (d.1936) is buried in Ladywell cemetery.
Edward Samuel Tinsley (1869-1937) – Times chess columnist. the eldest son of Samuel Tinsley (d.1903 –buried Ladywell cemetery) who was a chess player and writer,. He was a chess columnist for the Times. His son Edward took over the work after his death. Edward took a keen interest in his local club, St Mary's, Lewisham. He-lived at 194 Algernon road. "He did, perhaps, more than anybody else to develop the interest for good chess in England, and he devoted a great deal of time and energy to give the readers of the Times as good and accurate a chess column as could be found anywhere.'(Times – September 1937)
Julius Anton Eugen Wilhelm von Poseck (1816-1896) – German preacher, church founder, translator and author of the Brethren movement. In 1848, Mr. J.A. Von Poseck had a "wonderful conversion". According to German newspapers at the time he was standing in a crowd in Cologne watching a religious procession. "For some reason he moved from where he was standing and a man who took his place was killed by a piece of masonry falling from Cologne cathedral. This miraculous preservation from death resulted in his conversion to God". His daughter, Christiana Helene (d.1953), was a missionary and also the author of 10 hymns in 'Spiritual Songs'. Julius von Poseck lived at 2 Algernon road. He is buried in Ladywell cemetery.