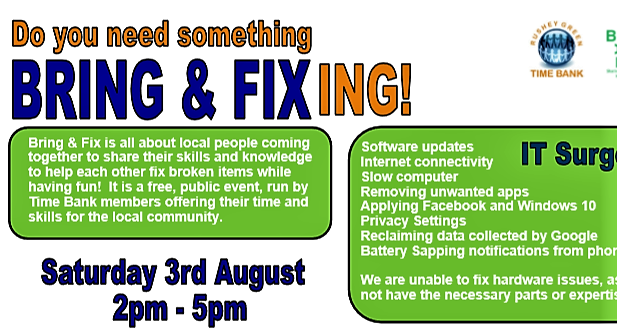 Rushey Green Time Bank, the local charity that encourages people to exchange their time and skills with others to strengthen the local community, is holding another Bring & Fix event on Saturday August 3
The event is all about local people coming together to share their skills and knowledge to help each other fix broken items.
It is a free, public event, run by time bank members who offer their time and skills for the local community. And its fun.
At this event you will find: an IT Surgery for software and installation support for phones or laptops; a sewing surgery to have jeans patched or hems taken up; Wills & Probate advice; a bike surgery to help keep those wheels turning; and and lots more!
The Bring & Fix guidelines allow only two working or non-working items per person; only two items of clothing to be repaired; and only carry-in items.
The Time Bank cannot guarantee items can be repaired.
Joining the time bank is free and open to anyone living or connected to the Lewisham area.
It is a great way to connect with others in the local area, while sharing skills and time in a flexible, task focused way, say Time Bank members. "It is all about neighbourliness".
One hour of your time given equals one-time credit, which you can then use to request help yourself.
The Bring & Fix event is on Saturday August 3 between 2-5pm at PLACE/Ladywell, 261 Lewisham High Street, SE13 6NJ.
For more information about Rushey Green Time Bank, Bring & Fix and to join visit their website: www.rgtb.org.uk or call 07544996722.